All measuring equipment and gages used to inspect product have been verified with calibration masters that are traceable to NIST.
Calibration gage blocks are Grade 0 (Laboratory Grade) and are only used for calibration of instruments.  Calibration gage blocks are scheduled to be recalibrated on 01/2018.
Mitutoyo BRT M-507 Coordinate Measuring Machine.
The Bright M507 is designed with a lightweight and compact structure, delivering an excellent cost/performance ratio. This unit also provides high accuracy, ultra-smooth movement on all three axes, direct digital data exchange and self-adjusting, high-rigidity air bearings. Additionally, the Bright M500 unit is fitted with a special constant force spindle grip mechanism, which ensures maximum consistency of measurement in the hands of the operators.
0.0005mm Measuring resolution

Measuring
Range
Z: 0-16″   (0-400mm)
X: 0-20″  (0-500mm)
Y: 0-28″  (0-700mm)
Resolution
 0.0000196″ (.0005mm)
Certified
Accuracy
(Traceable to NIST)
X: 0.0001″ over 16″
Y: 0.0002″ over 20″
Z: 0.0001″ over 12″
Last Certification
08-29-08 (Carolina Measuring Systems, Inc.)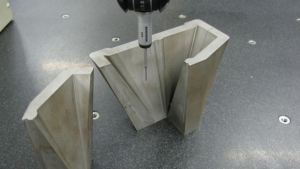 Inspection programs created directly from CAD
Optimization, simulation and verification of programs
Comprehensive programming and editing capability
CMM-Manager provides state-of-the-art reporting capabilities for visualizing and documenting your inspection results:
Various customizable reporting formats including graphical report, text report, or mixed text and graphical report;
Intuitive user interface for report creation including graphics assisted tools for tolerance reporting, and drag and drop interface for report template creation;
Web-ready HTML report output for information exchange and sharing between vendor and customer.
Graphical Report
Graphics Assisted Tolerance Reporting Tools for Ease of Customer Report Reading
Reporting features and datum features are highlighted in graphics window for easy identification.
Reporting dimensions and tolerances are displayed in graphics window for visual confirmation.
Drag and Drop Graphical Report Creation
Simply drag the reporting item from report data base tree and drop to the graphics report window, a graphics report table will be created instantly and the lead line will be automatically connected to the associated feature.
Web ready HTML Report Output
View and web-ready HTML report with your favorite web browser sent to your email address for quick viewing of certification results.
Wirtz Wire EDM, LLC utilizes an innovative new system combining the power of the Optical Comparator with digital video, hi-resolution cameras, telecentric optics and LED illumination: the HDV300 from Starrett
.
The HDV-300 incorporates digital overlay part design file (DXF) for comparing the inspected part to its design profile, similar to using a Mylar overlay chart on a comparator screen.
Intuitive M3 programming power and simple operator display interface make part measuring efficient and highly productive.
Features & Specifications:
Large measuring travel
Quick action interchangeable lens system
Rugged design suitable for many manufacturing environments
Bench top mounting
DXF CAD import and overlay measurement software
24″ touch screen monitor
LED illumination
Mahr Perthen Perthometer C5D
High measuring and positioning speed
Long measuring length, karge measuring stroke
Groundbreaking oribe system with bionic probe design
Probe arms with magnetic holder and probe arm recognition